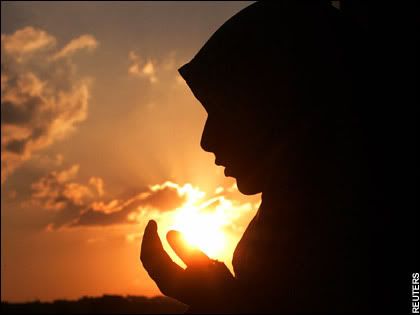 I wonder........................
If Prophet Muhammad (SAW) visited you, just for a day or twoIf he came unexpectedly, I wonder what you would do?
Oh I know you would give your nicest room, to such an honored guest
And you would surely serve him, your very very best.
You would be your finest, cause you're glad to have him there
That serving him in you're home, would be a joy without compare.
But when you see him coming, would you meet him at the door
With your arms outstretched in welcome, for your respected visitor.
Or would you run to change your clothes, before you let him in
And hide some magazines to put the Quran, where they had been?
Would you still watch those movies, on your TV set
Or would you switch it off, before he gets terribly upset.
Would you turn off the radio, and hope that he had not heard
And wish that you did not sing, that song word by word?
Would you hide your worldly things, and instead take the Hadith books out
Could you let him walk right in, or would you rush about?
And I wonder...if the Prophet (SAW) spent, a day or two with you
Would you go on doing the things, that you always do?
Would you go right on and say the things, that you always say
Would life for you continue, as it does from day to day.
Would your family conversations, keep up their usual pace
And would you find it hard at each meal, to say a table grace?
Would you keep up each and every prayer, without putting on a frown
And would you always jump up early, to say your Fajr at dawn?
Would you sing the songs you always sing, and read the books you read
And let him know the things on which, your mind and spirit feed?
Would you take the Prophet (SAW) with you, everywhere you plan to go?
Or would you maybe change your plans, just for a day or so?
Would you be glad to have him meet, your very closest friends
Or, would you hope they stay away, until his visit ends?
Would you be glad to have him stay, forever on and on
Or would you sigh with great relief, when at last he has gone.
It might be interesting to know,the things that you would really do
If Prophet Muhammad (SAW) came, to spend some time with you.
Brothers and Sisters,What if instead of the Prophet S.A.W, it was the Angel of death Izra'il ? Are you ready to die today? What would you do if you knew that today was your last day on earth? What would you do differently? I remember watching a sheikh being asked that question and he gave the most beautiful answer, he said: If I knew that today was my last day, there is nothing I would do differently, because I already live every day as if it was my last! SubhanaAllah, we don't know when that day will come for us, it could be any day....Will we be ready for it then?
It's not too late to Repent! We can start improving ourselves
TODAY
, not
TOMORROW
!
Abu Bakr Al siddiq (May Allah be pleased with him), narrated:
"I heard Prophet Mohammad (PBUH) saying: 'There isn't a man who, when he commits a sin, rises, makes ablution, and offers two rak'as of prayers, but Allah forgives his sins.'
Allah says in the Qur'an:
"Those (are the true believers) who, when they commit an evil deed, or wrong their souls, remember Allah, and seek forgiveness for their sins - and who but Allah forgives sins? They do not insist upon the sins they have committed, and they know (that Allah is forgiving)." (Qur'an 3:135)
Imam Zainul Abideen (as) said: "My God! You are He who has opened a door to Your pardon and named it 'repentance' for You said, 'Repent to God with unswerving (sincere) repentance' (66:8). What is the excuse for him who remains heedless of entering the door after its opening?"
Oh Allah (SWT), let us become better Muslims by repenting for our sins, major and minor, intentionally or unintentionally, openly or secretly, and accept our repentance, and save us from repeating our sins. Aameen.