About 2 weeks ago, I ordered 3 tunics from Najea over at
Hijabi Couture
. I received my order on Satuday and was thrilled. I love the tunics. The fabric is great, the cut and style are so unique and the design is absolutely beautiful. Najea was quick to respond to my emails while I was ordering and even gave me some advice on what sizes to order. She's such a lovely sister and I would recommend her site to anyone looking for trendy hijab-friendly clothes! You need to take a look at her site, I'm sure you will be satisfied once you place your order!
I'm wearing the lilac tunic right now and got a lot of compliments on it. I love the color and the material is so soft!
I love the combination of cinammon&brown and again the material is great! Can't wait to wear this one!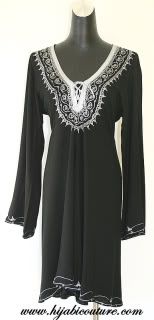 This one is so classy and can be worn with almost anything. I love the design and it's about to be one of my favorites!
So, a big Thank you to Najea for designing beautiful Hijab-friendly clothes!